Famous for its history and temples, Cambodia is a Southeast Asian country which offers many tourist attractions for nature and adventure lovers. The lush forests, rolling hills and white beaches are some of the attractions of this beautiful country. Here we have the list of the top 10 hill stations in Cambodia that must be in every bucket list.
1. Cardamom Mountain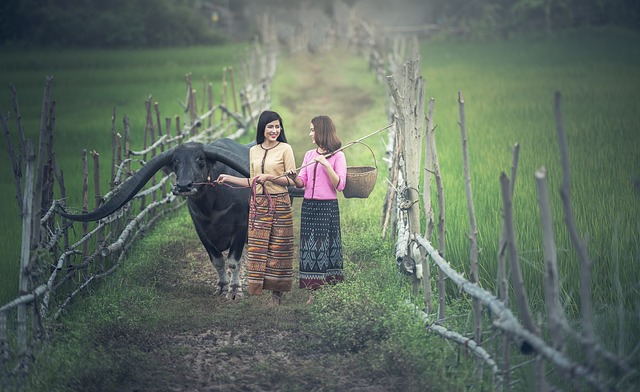 Cardamom Mountains is a place to experience elegance and can be one of the best honeymoon destinations in Cambodia. It is the largest surviving rainforest with endangered species like Asian Elephant, Siamese Crocodile, Gibbon, Clouded Leopard, Pangolin, Sun Bear, and many insects and reptiles. Tourists can opt for the Cardamom Tented Camps here which are easily accessible, or go for homestays and experience the rural Cambodian life. Famous activities here include jungle trekking, kayaking, mountain biking and wildlife exploration.
2. Ratanakiri
Ratanakiri is a nature-filled destination for adventure lovers. It is one of best sites in Cambodia for trekking and several jungle or adventure tours are offered by companies. They involve spotting gibbons at Veun Sai-Siem Pang Conservation Area, sleeping in hammocks, and hiking in Virachey National Park. It also has a lot of serene natural beauty with waterfalls and rivers winding through lush forests and the tranquil swimming spot of Yeak Lom Crater Lake.
3. Mondulkiri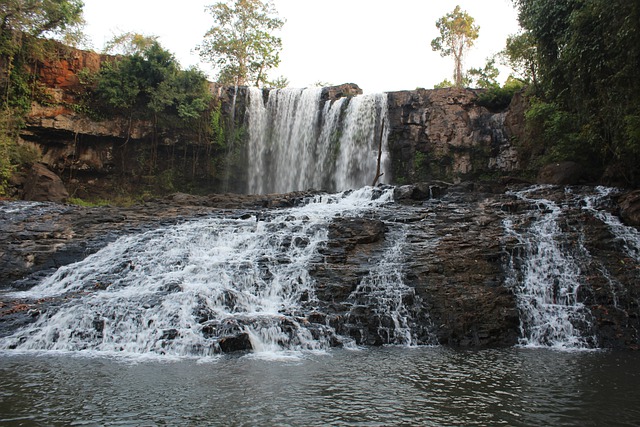 Mondul is one of the most popular hill stations in Cambodia currently because of ecotourism and nature travel. It gained fame due to its wooded hills, forested mountains, lush rolling hills and amazing waterfalls. The biggest waterfall of Cambodia, Bou Sra is located here. Tourists can also visit the coffee farms here and enjoy the scenic view from Andong Sne (also known as Love Wells).
4. Kampot and Kep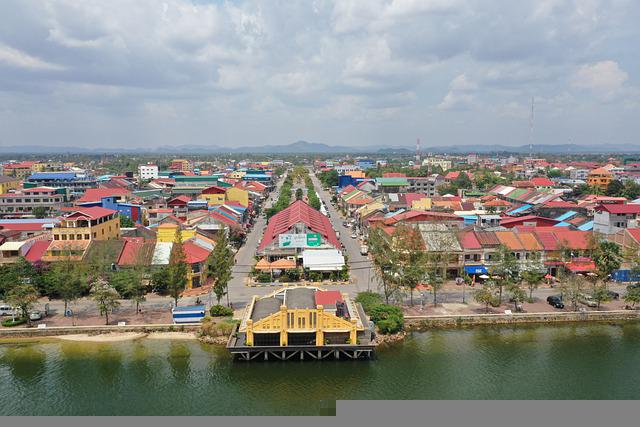 Kampot is beautiful, laid-back town on the banks of river Preaek Teuk Chhu. It is a treat for nature and adventure lovers with great rivers for Kayaking, stunning mountains and beautiful pieces of architecture. Furthermore, there is a free guided tour through the famous Kampot Pepper plantations.
About 30-45 minutes away, Kep is a calm and relaxed coastal city to spend some lovely peaceful time. It is a great escape from the fast-paced city life to chill for a few days with the sound of the ocean waves and birds singing. The Kep Crab Market is a famous spot here and must be visited.
5. Kirikom National Park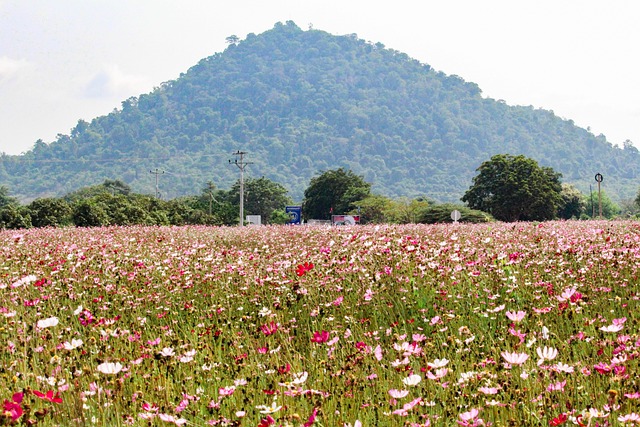 Located in the southern part of Cambodia in the Cardamom Mountain range, Kirikom meaning the "Mountain of Joy" is a perfect getaway from the hustle of the city. The national park is situated at a height of 700 meters above sea level and the weather is cool and wonderful. It consists of several waterfalls, cliffs, pulsating orchids, wooded hills, Buddhist Shrines, pine trees, and not to forget the breathtaking views of the Cardamom Mountains. It is just 112 Kilometers from Phnom Pheh and can be added to the list of must visited hilly places in Cambodia.
6. Battambang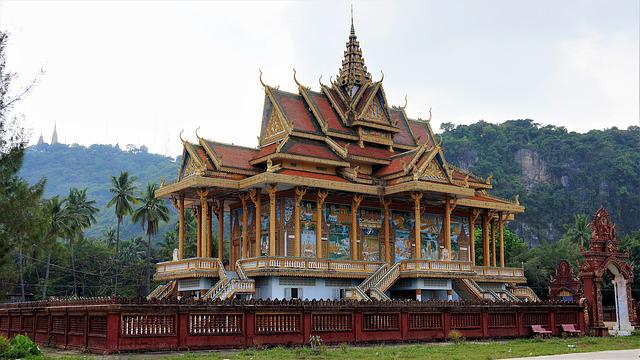 Battambang, the second biggest city in Cambodia and the former capital of Monton Khmer, houses some of the most peaceful scenery in Cambodia. It is enriched with quirky cafes, lush green countryside of rice fields, French colonial buildings, Angkor-style temples and Buddhist shrines. One of the famous and the most exciting things here is the Bamboo Train. It is a single line rail track with carriages of wood and bamboo riding between the east bank to the tiny village of O Srav.
7. Bokor Mountains
Bokor Mountains provides a dramatic remnant of the bygone past and glory of Cambodia hill stations. It was once a resort for French Colonists with sprawling hotel and casino at elevated heights, offering a reprieve from the humid heat of the plains. Now, even the dilapidated state is evident of the lost luxury in the lofty rooms, spacious terraces overlooking the Gulf of Thailand and the grand ballroom. Even though it was a skeleton for many years, it is now seeing a resurrection with tourists going back to the mountains and discovering the remnants of the past glory.
8. Damrei Mountains
Damrei Mountain, also known as Elephant Mountain is the latest tourist attraction due to the latest dam road built around the foot of the mountain. It is a north-south succession of the Cardamom Mountains which drops abruptly to the sea near the town of Kampot.
The Phnom Bokor National Park with a wide biodiversity of plant species, some of the rare orchids and endemic plants is a major part of Damrei Mountains.
9. Phnom Aural (Mount Aural)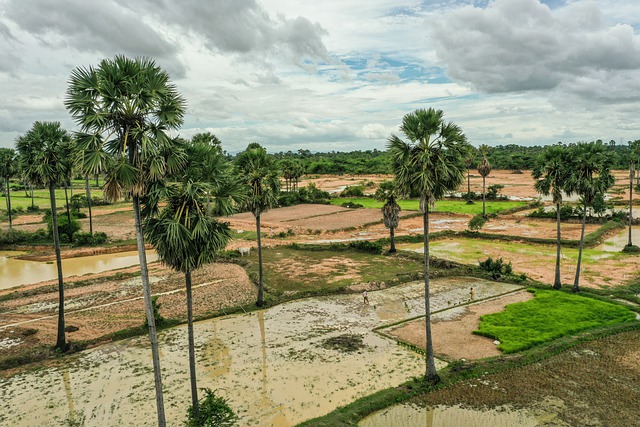 Phnom Aural or Mount Aural is the highest point in Cambodia, located in the Aural District of Kampong Speu Province. It is one of the most beautiful hill stations in Cambodia with a trek that takes the climbers through forests. They can get a glimpse of a variety of wildlife in the area consisting of leopards, boars, monkeys, and bears.
Being situated 150 km away from the capital Phnom Penh, it is mostly accessible with many tour services available in Phno, Penh and Siem Reap. However, it is not an overly popular climbing destination yet which might appeal to some trekkers who likes unpopular peaks and points.
10. Phnom Kulen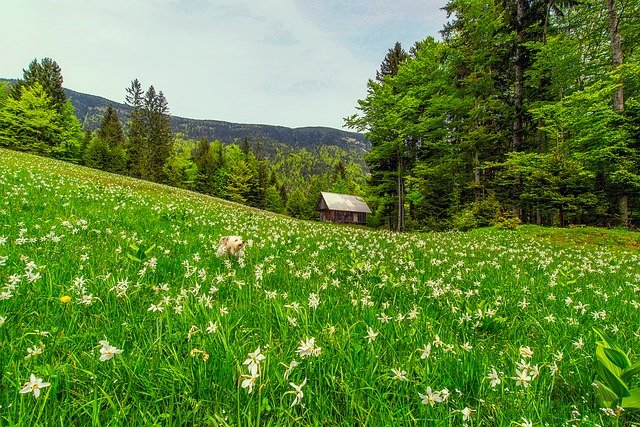 Located 30 km northeast of Angkor archaeological site, Phnom Kulen national park is a protected area of 37,375 hectares situated in Banteay Srey, Svay Leu and Varin district of Siem Reap province. The mountain is known as Mahendraparvata i.e., the mountain of Great Indra. There are major archaeological remains of the Khmer Empire like 40 brick temples (including a pyramid mountain-temple), ancient reservoirs, channels, dykes with spillway, ponds, platforms, plots, and earthen mounds.
There are also some other prehistoric sites containing rock sites, above 40 rock shelters, 2 sculpted riverbed, ceramic kilns (dating back to 10th or 11th centuries, late Angkorian temples, large natural waterfall, and Preah Ang Thom reclining Buddha.
From the list given above, Cambodia can be called a diverse place offering tourists a mixed platter of history, nature, culture, and adventure. It ticks all the boxes that any tourist can be looking for while planning a trip to remember!